Village in the Lofoten Archipelago, Nordland County, Norway.
Norwegian Graphite is a Best Practices organisation
Norwegian Graphite is initiating a go-forward procedure plan for all aspects of the planned operations, from exploration and mining, to purifying, reclamation, etc.
Graphite is an inert material and we believe graphite extraction can be a particularly clean ore extraction industry. Indeed, our preliminary analysis leads us to believe we might be able to operate a graphite mine in Norway without the need of any tailings deposition at all. With the high grades available at our deposits (generally above 15% C) the volume of waste-rock is anticipated to not exceed what can be reclaimed and used for local road construction, sports arenas, and other community projects.
Preserving the environment and causing as little impact as possible has been given highest priority. A key element of this is a continuous dialogue with the local population.
The goal is to have the best run and managed industrial natural resources corporation in Norway and in the Nordic region, with every aspect of the environment considered.
The company will announce in the second half of 2012, the members of the environmental audit committee.
Read Norwegian Graphite's Safety & Environmental Policy HERE.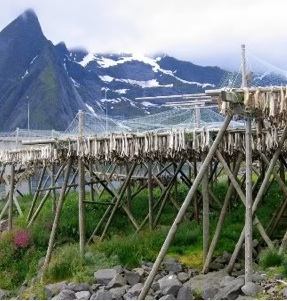 Traditional wooden racks of Stockfish, Nordland County, Norway.